Blog
How and Where to learn
Marketing Analytics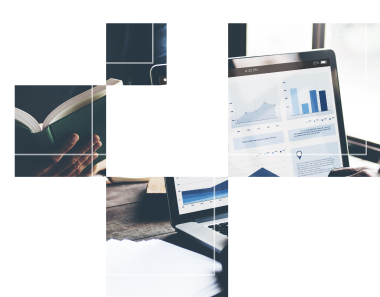 Introduction to Marketing Analytics
Marketing Analytics is the process of enhancing the success of marketing initiatives by complete analysis and management and ensuring better marketing performance. It helps the marketers to develop a proper strategy for marketing and competing in the open market. Marketing Analytics increases the efficiency of the work along with providing a better outcome. It helps to analyze all the parameters needed for accomplishing efficient, effective, and desired work by a complete scrutiny of the work.
Marketing Analytics enables a company to compete in the market because it involves the analysis and comparison of a product or service with a similar competitive product available in the market. The fundamental of Marketing Analytics is to analyze the Market Return on Investment (ROI). In simple terms, if a product or service costs more than its return, then it shouldn't be considered for a long time.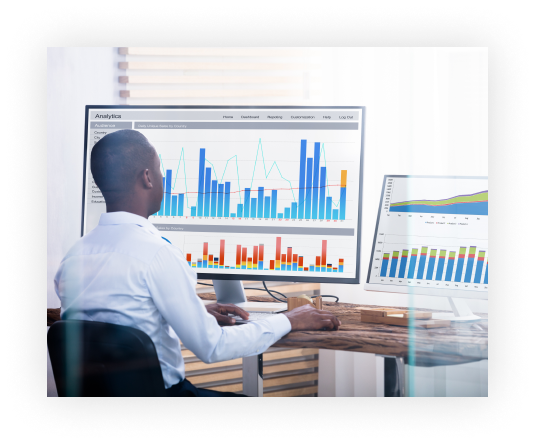 Here is a list of what other things that marketing analytics provides you:
Regular marketing initiatives performance analysis
Improvements required for better performance
Comparison of marketing activity with other competitors
Financial aspects such as market return on investment (ROI)
Complete strategy for proper allocation of resources
Selection of premier platform for investment
Proper market segmentation and correct order of their prioritization
Future prospective and way forward
Marketing Analytics: How and where to start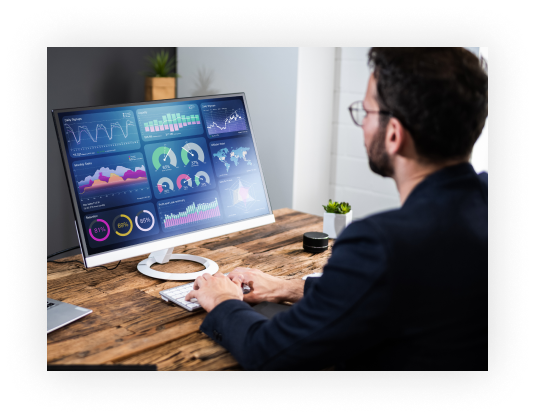 According to a survey, around 60% of the world's population uses the internet, and a huge percentage remains online most of the time. The Web is the best platform when it comes to Market Analytics. The web is a huge market to reach out to a large population.
Before learning online marketing analytics, here are few keys to be considered:
Keyword search
Use paid search for relevant marketing campaigns
Complete analysis of the search result
Opt for natural search
It is well known that Google Analytics is among the favorites when it comes to web analytics. The web is beyond the grasp of only a few online marketing analytics, and hence there are many options available. Here is the list of online resources where you can learn Marketing Analytics and practice it on a wide scale:
The KISSmetrics Blog
The KISSmetrics Blog is one of the prominent sites to learn marketing analytics. It gives many opportunities and options to experiment with data. The content is available on a regular basis and can lead you to different marketing channels. The blog will help you learn in detail about data analysis. The information is easily accessible and focuses on all aspects of marketing analysis. The marketing campaign is all one of the best features of this blog to develop a better understanding of the market.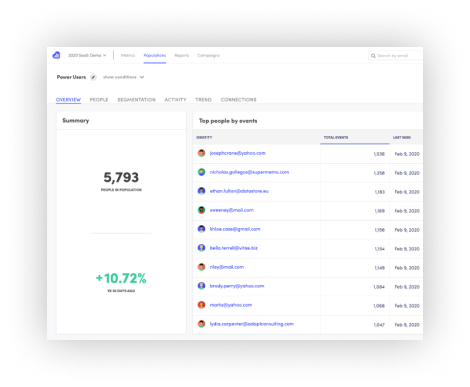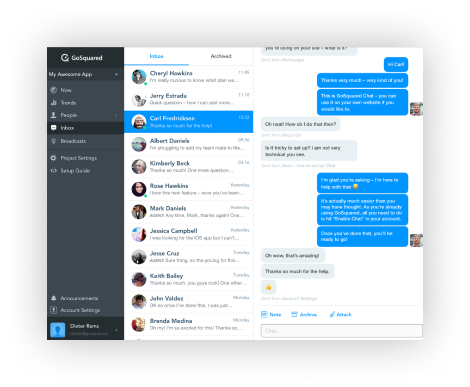 GoSquared
Available in both websites as well as the mobile app is the most utilizing feature of GoSquared. This site generates a simple mechanism where you can follow up with anonymous users, which might ultimately lead them to be your prospective client. Monitoring customer's behavior through GoSquared is a good way to identify trends for better decision-making. A complete study of marketing analytics through GoSquade is helpful for a long time because it ensures an overall strategy to counter any hurdle.
Occam's Razor Blog
A blog run by Avinash Kaushik, author of the books "Web Analytics 2.0" and Web Analytics: An Hour A Day. It is a great online resource to learn marketing analysis, explanation of all market terms, along with analytical material understanding. Many posts are regularly updated on this blog which provides a correct approach to learning market strategy and data analysis. This blog and its content nourish the idea for beginners as well as experts in the field of Digital marketing and marketing analysis. The subjects of the posts are diverse yet interlinked to all digital market-related ideas like Digital Analytics, Practical Analysis, Quantitative Analysis, Competitive Intelligence Analysis, Web Metrics, and Digital Marketing.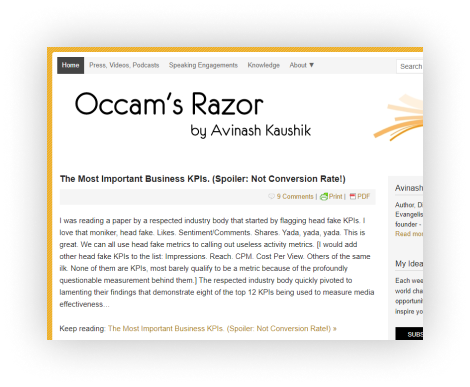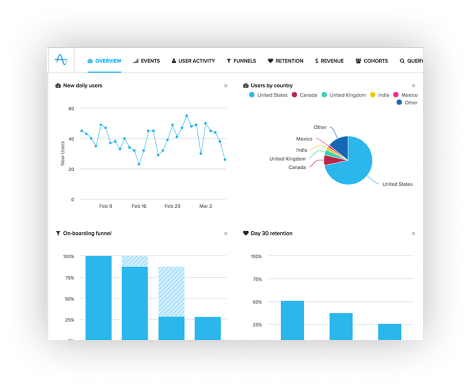 Amplitude Analytics
A products analytics platform that helps businesses have a complete help of collaborative analytics and useful for tracking visitors activity to enhance performance. All the learning tasks are organized and performed in a concise manner. It assists in data evaluation and draws inferences from those data. The information available is in a very compact form and easily accessible and also provides a wide range of information very similar to Google analytics.
SE Ranking
A very prompt and comprehensive website that helps to promote marketing business by promoting the website of the user irrespective of their level of experience. It constantly helps to improve the experience and functionality of their users by providing all better options for search engine optimization. The attractive feature of this website that makes it distinct from other available options are: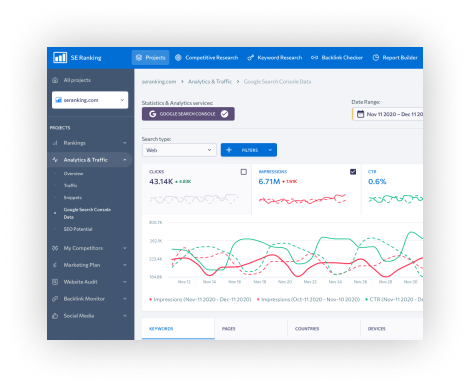 This website also provides a great platform to create better websites and clear interference. The data can be easily comprehended and analyzed to develop a complete digital market analysis.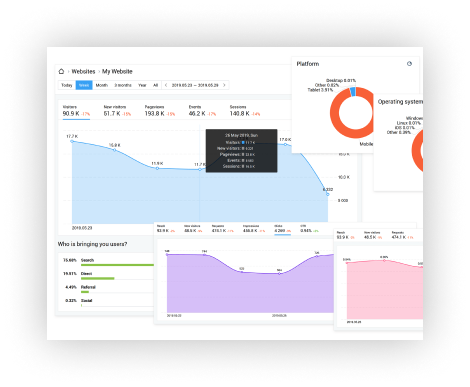 Finteza
Finteza system is one of the top web analytics tools when it comes to marketing analysis. This system provides a chunk of information based on traffic on the website, top-performing web pages, devices, and software.
The most important feature of Finteza is its ability to create and analyze a funnel system for those who will be converting to your site. It also has a multi-step traffic measurement system for complete behavior analysis and performing better tasks. Here are a few highlighted feature of the website
When it comes to digital marketing analysis, Finteza is considered to be a great source. It is quite distinctive because of its accounting algorithm, which easily detects the traffic on the website in real-time from each channel.
Smartlook
With a vision to combine session recording and providing advanced analytics for almost any device, Smartlook is heading forward to providing a platform for marketing analysis that has a prosperous future. Some of the attractive features of Smartook are highlighted below:
Smartlook heatmap tool: Basically indicate where in the page users often click. Helps to differentiate between random browsing and deliberate actions. It will also enable us to understand how long the user has scrolled the page.
Screen recording: Automatic detection of every interaction with the user and strong filters and segments.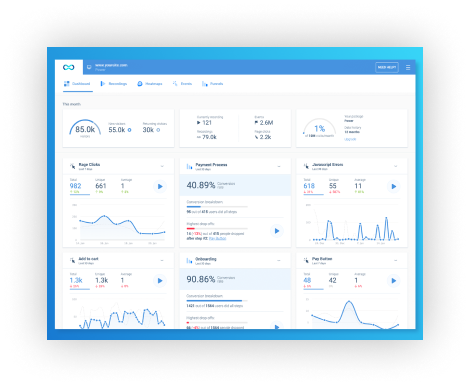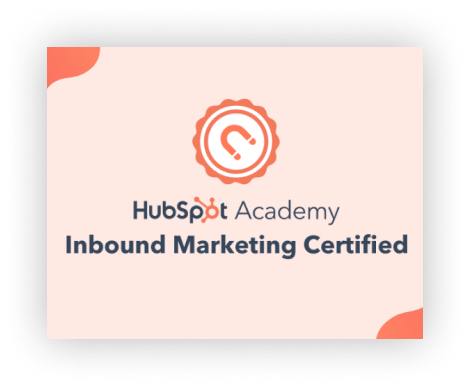 HubSpot's Inbound Certification
It offers free marketing certification for interested persons. It provides a great platform to study and learn all aspects related to market analysis and to have a better understanding of relevant market trends. Data analysis and many other curricula are also covered in this certification course. Being an online learning platform can be easily accessible to a wide range of users where people can learn from beginning to expert level.
Marketing analytics is the primary focus of the course, along with all relevant learning opportunities to enhance the knowledge required to meet the modern market demand. This course does not require any particular or specific pre-learned details. Along with being a free resource, it allows any interested person to avail of this certification course.
Woopra
Advanced customer analytics cloud-based service that is built to perform a complete analysis and to track customers' behavior. The profile helps to view all the activity carried out by the users, and then a complete analysis is done to optimize the future service. Building behavioral segments is a prime feature of the website that enables it to prepare a report based on trends and to note all the triggering factors. A multidimensional approach to understanding Marketing Analytics and management to ensure better market performance is the key factor driven by the website. Woopra has elevated the priority to understand the experience of customers by providing channel and platform agnostic.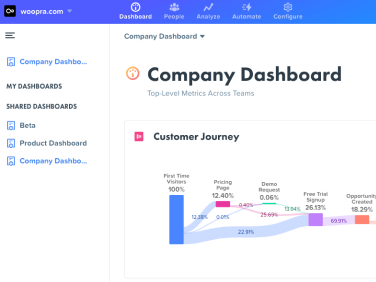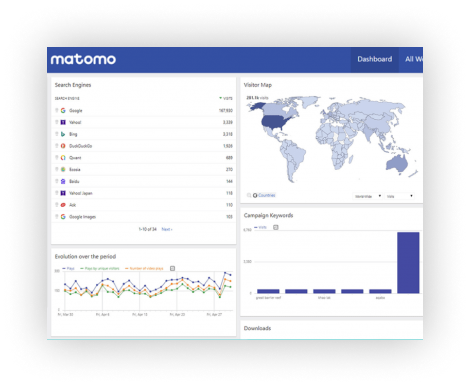 Matoma
Matoma, in some aspects, is similar to Google Analytics with respect to safeguarding the data and privacy of the user. Installation of the Matoma gives the user 100% data ownership. It has become open-source of web analytics with giving paramount importance to data privacy. Matoma policy works on the values of Openness, Freedom, transparency, and Data ownership.
The business model of Matoma works on self-host servers, which ensure that data remains to the user without any external source interference. Marketing Analytics and management are completely fulfilled along with data protection which gives the user of security to be relied upon. If someone is in the beginning stage of learning market analysis, then this platform is a perfect pitch.