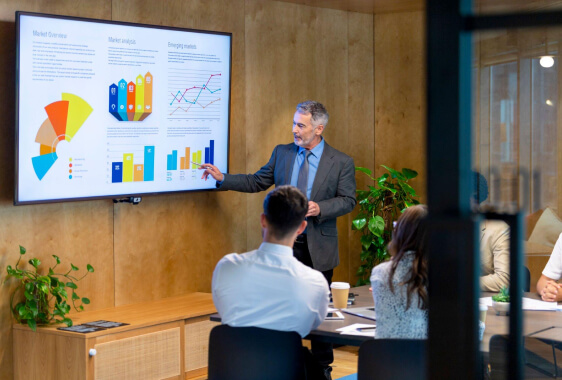 Why Business Needs Microsoft BI Services
Are you a business owner in San Francisco looking to gain a competitive edge in the market? If so, then Microsoft BI services are exactly what your business needs. With the ever-increasing amount of data being generated, it has become crucial for businesses to effectively analyze and interpret this information to make informed decisions. Microsoft BI services provide you with the tools and technologies to do just that. By utilizing Microsoft BI services, you can easily gather, organize, and analyze data from various sources, allowing you to gain valuable insights into your business operations. Whether it's sales data, customer feedback, or market trends, Microsoft BI services provide you with the ability to visualize and understand this information in a meaningful way. Furthermore, Microsoft BI services offer advanced reporting and dashboard capabilities, enabling you to track key performance indicators and monitor the health of your business in real-time. This allows you to identify areas of improvement and make data-driven decisions to drive growth and profitability. In today's fast-paced business environment, staying ahead of the competition is essential. By leveraging Microsoft BI services in San Francisco, you can harness the power of data to make smarter business decisions and propel your business to new heights. Don't miss out on this opportunity to transform your business – embrace Microsoft BI services today!
Our Microsoft BI Services
Power BI
This is a powerful business intelligence tool offered by Microsoft that allows you to create interactive visualizations, reports, and dashboards. With Power BI, you can connect to various data sources, transform and model the data, and gain valuable insights for decision-making.
SQL Server Reporting Services (SSRS)
SSRS is a Microsoft BI service that enables you to create, deploy, and manage paginated reports. These reports can be generated from a wide range of data sources and can be customized to meet specific business requirements.
SQL Server Analysis Services (SSAS)
SSAS is a multidimensional and data mining analysis tool provided by Microsoft. It allows you to build and deploy analytical models, such as cubes, to explore and analyze large volumes of data. SSAS provides advanced data mining capabilities for predictive analysis.
Azure Analysis Services
This is a cloud-based BI service offered by Microsoft that allows you to create and deploy scalable analytical models. Azure Analysis Services provides a fully managed platform for building enterprise-grade BI solutions in the cloud, enabling you to analyze data from various sources and share insights across your organization.
Excel Power Query
Power Query is an add-in for Microsoft Excel that allows you to discover, connect, and transform data from various sources. It provides a user-friendly interface for data preparation and cleansing, making it easier to import and analyze data in Excel.
Azure Data Factory
Azure Data Factory is a cloud-based data integration service that enables you to orchestrate and automate the movement and transformation of data across various sources and destinations. It provides a scalable and reliable solution for data integration, allowing you to build data pipelines for your BI workflows.
Features of Microsoft BI
Power BI Desktop
This is a powerful data visualization and reporting tool that allows users to create interactive dashboards and reports.
Power Query
This feature enables users to easily discover, connect, and transform data from various sources for analysis.
Power Pivot
With Power Pivot, users can create data models and perform advanced data analysis using large datasets.
Power View
This feature allows users to create interactive data visualizations, such as charts, maps, and tables, to explore and present data.
Power Map
Power Map enables users to create 3D geospatial visualizations to analyze data on a map.
Natural Language Query
This feature allows users to ask questions in plain language and get answers in the form of visualizations and reports.
Cortana Integration
Microsoft BI integrates with Cortana, Microsoft's virtual assistant, allowing users to ask questions and get insights using natural language queries.
Start Your Microsoft Bi Services Process With Us
Why Choose Our Microsoft BI Company San Francisco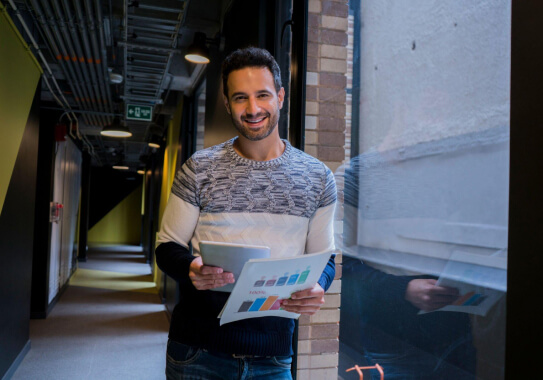 You're looking for a data analytics company in Texas, and you want to make sure you choose the right one. Well, look no further than our company. Here's why:
Expertise and Experience: Lateral Matrix Microsoft BI Company in San Francisco boasts a team of highly skilled professionals with extensive expertise in the field of business intelligence. With years of experience, they have successfully delivered numerous projects, helping businesses make data-driven decisions and achieve their goals.
Cutting-Edge Technology: The company utilizes the latest tools and technologies offered by Microsoft to provide top-notch business intelligence solutions. From data visualization to predictive analytics, they leverage the power of Microsoft BI to help businesses gain valuable insights and stay ahead of the competition.
Customized Solutions: Lateral Matrix understands that every business is unique and has specific requirements. They offer tailored solutions that are designed to meet the individual needs of each client. Whether it's creating interactive dashboards or developing complex data models, their team ensures that the solutions align with the client's objectives.
Exceptional Customer Support: The company prides itself on providing exceptional customer support throughout the entire project lifecycle. From initial consultation to post-implementation assistance, their dedicated team is always available to address any queries or concerns. They strive to build long-term relationships with their clients by delivering high-quality solutions and excellent customer service.
List of Industry Require Data Analytics Services
Retail and E-commerce
Healthcare
Finance and Banking
Manufacturing
Telecommunications
Energy and Utilities
Transportation and Logistics
Government and Public Sector
Media and Entertainment
Education and Research
Hospitality and Tourism
Agriculture and Farming
Real Estate and Construction
Insurance
Sports and Fitness
Our Microsoft BI Service Process
Introduction to Microsoft BI Service: Begin by providing an overview of Microsoft BI Service, explaining its purpose and benefits. Highlight how it helps organizations analyze and visualize data to make informed business decisions.
Data Gathering and Preparation: Explain the first step in the Microsoft BI Service process, which involves gathering and preparing data for analysis. Discuss the various data sources that can be integrated, such as databases, spreadsheets, and cloud-based platforms. Emphasize the importance of data quality and cleansing to ensure accurate insights.
Data Modeling and Analysis: Describe the next stage, where data is transformed into a structured format for analysis. Discuss the use of tools like Power Query and Power Pivot to create data models and relationships. Explain how users can perform advanced calculations, create measures, and build interactive reports and dashboards.
Data Visualization and Reporting: Highlight the importance of data visualization in conveying insights effectively. Discuss the capabilities of Microsoft BI Service's Power BI tool, which allows users to create visually appealing and interactive reports and dashboards. Explain how users can customize visuals, apply filters, and share their findings with others.
Collaboration and Sharing: Explain how Microsoft BI Service enables collaboration and sharing of insights within an organization. Discuss features like Power BI workspaces, where teams can collaborate on reports and dashboards. Highlight the ability to publish and share reports securely with stakeholders, both within and outside the organization, using Power BI service or embedding them in other applications.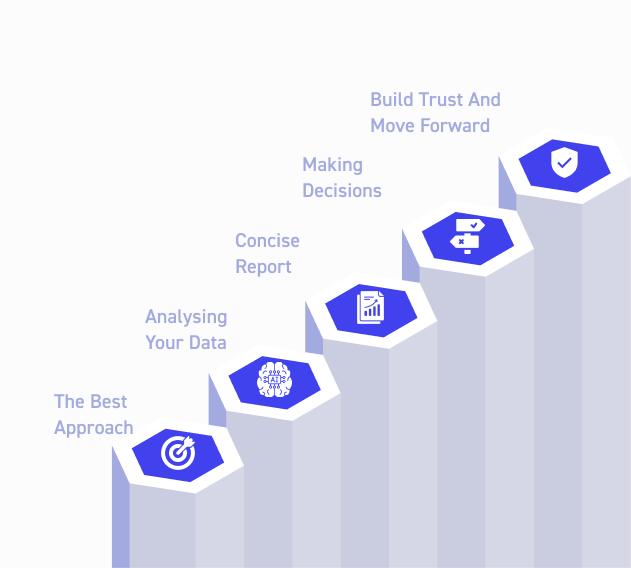 Our Technology
Power BI
SQL Server
Azure Analysis Services
Azure Data Factory
Azure Data Lake Storage
Azure SQL Database
Azure Machine Learning
Azure Cognitive Services
Azure Databricks
Azure Synapse Analytics
Essential Performance Indicators for Microsoft BI
Revenue generated from Microsoft BI services
Number of new clients acquired
Client satisfaction rating
Number of successful BI implementations
Average project completion time
Employee productivity and utilization rate
Number of BI training sessions conducted
Percentage of repeat business from existing clients
Number of industry awards and recognition received
Overall profitability of the agency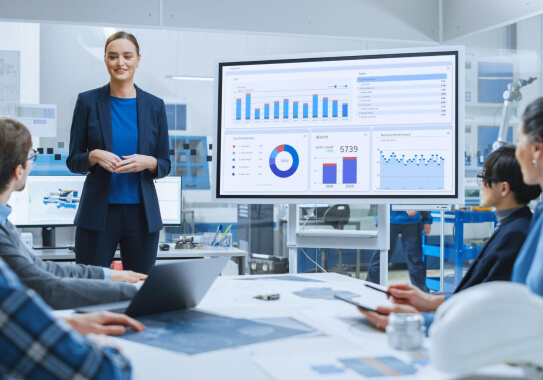 Testimonials
If you're looking for top-notch Microsoft BI services in San Francisco, look no further than Lateral Matrix. They have a team of experts who helped us streamline our data analysis process and provided us with valuable insights to make informed business decisions. Highly recommended!
Lateral Matrix's Microsoft BI services in San Francisco are a game-changer for our company. Their team understood our unique business needs and customized a BI solution that perfectly aligned with our goals. Thanks to their expertise, we now have a comprehensive data visualization platform that has significantly improved our decision-making process.
Choosing Lateral Matrix for Microsoft BI services in San Francisco was one of the best decisions we made for our business. Their team not only implemented a robust BI system but also provided us with thorough training and ongoing support. Their dedication and expertise have empowered us to harness the power of data and drive our business forward.
Case Study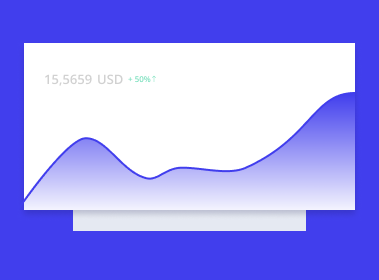 You are a small business owner in San Francisco looking to gain valuable insights from your data. With Microsoft BI Services, you can harness the power of advanced analytics and reporting tools to make informed business decisions. Our team of experts in San Francisco will guide you through the entire process, from data integration to visualization, ensuring that you have a comprehensive understanding of your business performance.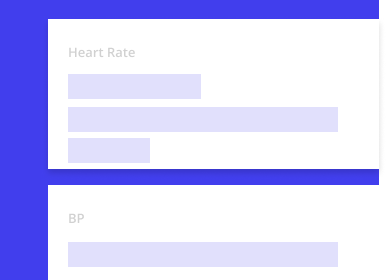 Imagine you are a marketing manager for a tech startup in San Francisco. You need to analyze your marketing campaigns' effectiveness and identify areas for improvement. Microsoft BI Services can help you consolidate data from various sources, such as social media platforms and website analytics, into a single, easy-to-use dashboard. With real-time insights at your fingertips, you can optimize your marketing strategies and drive better results for your business.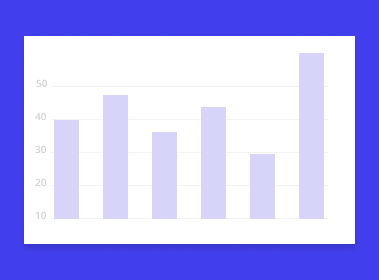 As an HR manager in a large San Francisco-based corporation, you are responsible for monitoring employee performance and identifying talent gaps. Microsoft BI Services offers a comprehensive solution for workforce analytics, allowing you to track key HR metrics, such as employee turnover and performance ratings. With interactive dashboards and customizable reports, you can make data-driven decisions to enhance employee engagement and drive organizational success.
FAQ
Microsoft BI, or Business Intelligence, is a suite of tools and technologies that enable organizations to analyze and visualize their data for better decision-making. It offers a range of features such as data integration, reporting, and interactive dashboards.
Microsoft BI can benefit your business by providing insights into your data, helping you identify trends and patterns, and making data-driven decisions. It allows you to easily access and analyze data from various sources, empowering you to gain a competitive edge and improve operational efficiency.
The key components of Microsoft BI include Power BI, SQL Server, Azure Analysis Services, and Excel. Power BI is a powerful data visualization tool, SQL Server is a database management system, Azure Analysis Services is a cloud-based analytics platform, and Excel is a widely used spreadsheet program with built-in BI capabilities.
Yes, Microsoft BI is designed to integrate with a wide range of systems and data sources. It can connect to databases, cloud services, Excel files, SharePoint, and many other sources. This flexibility allows you to consolidate and analyze data from multiple systems in one place.
Yes, Microsoft BI is suitable for businesses of all sizes, including small businesses. It offers scalable solutions that can grow with your business needs. Additionally, Microsoft provides various pricing options, including free versions of Power BI, making it accessible to small businesses with limited budgets.