Establishing targets and deadline with customer satisfaction in mind has been our priority. We achieve this with the help of: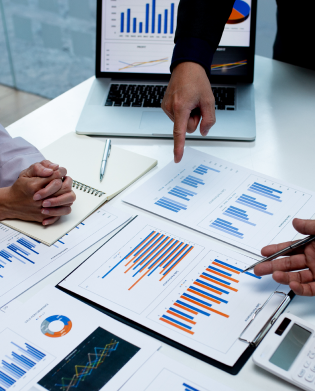 Customer-centric goals at each step helps to work more efficiently towards the target or deadline. This goal-oriented approach helps businesses to know their customers better, improve customer engagement, derive value for the customers and gain actionable insights.
---
Our customer analytics agency in Chicago empowers businesses by collating useful data about customers consistently. This is achieved through dedicated monitoring of existing data, getting feedback through surveys, leveraging on the data available on social media platforms and other reliable sources.
---
The Data Mining services of Lateral Matrix focus on segmenting huge sections of data to identify patterns and trends to identify relationships, bottlenecks and leverage new opportunities.
Our customer data analytics company in Chicago will do Data mining solutions comprise of Clustering, Segmentation and Profiling Building models for predictive analysis, Tracking customer behavior and Strategies for Cross and Up selling.
---
Today, business analytics is being used for budgeting, planning and forecasting. The foundation to every successful project starts with a proper business analytics strategy.
Business analytics will give you the complete liberty to alter your plans and respond to the unexpected changes with ease. Also, you will be able to make fater and more confident decisions for your company.
You can use business analytics as a tool to combine data across all platforms. Our business analytics solutions will also help you to enhance the user experience to a great extent. The data processing time will also reduce by 80%.